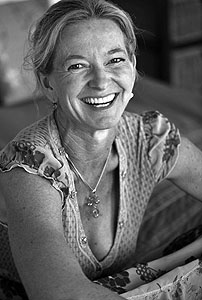 Elke Losskarn was born in Stuttgart/Germany in 1963.
From 1982-1986 she studied graphic and photo design in Augsburg/Germany. 1989–1995 she worked at the Motor Presse in Stuttgart, where her adventurous spirit led her to journey through many different countries through all continents on a variety of motorbikes.
She captured these experiences vividly and artistically on camera. Invited to do a photo assignment in South Africa in 1994, Elke's motorbike trip took her from Johannesburg to Cape Town. It was love at first sight and it was here that Elke made her new home.
Elke Losskarn has illustrated 20 travel and coffe table books, and her photographic artworks have also featured in calendars and international travel magazines. Elke lives on the Cape Peninsula in picturesque Hout Bay where she runs digital photo workshops for all ages.
In addition she started doing mosaic projects in 1997 when building a house and later on, her work was also featured on Top Billing and in the House and Leisure magazine.